Prosegur Hawk-Eye, remote surveillance moving towards 5G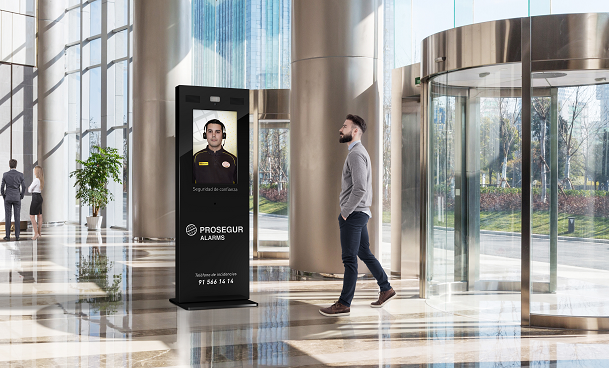 These services monitor, 24 hours a day and simultaneously, different areas of a property in real time. These remote surveillance services, known as Hawk-Eye, digitise the security of apartment buildings, gated communities, and office buildings. "It is an intelligent surveillance service to prevent, detect and act in real time when an abnormal event or situation arises, or acts of vandalism or accidents occur," explains Sebastián Slelatt, Director of Strategic Products of Prosegur Alarms.
Remote surveillance services are set to be at the forefront of remote security. After the installation of cameras, the user can visualise and maintain direct contact with the security guard or guards who are connected remotely from a Control Centre through the screen of a two-metre-high totem located inside the property.
The security guards monitor all common spaces and can activate a warning siren to alert neighbours or initiate an operation to alert a security guard, the police, the fire brigade, or ambulances if there is any problem or an accident occurs. "We say it is an active remote video surveillance service because behind each camera there are professionals watching everything that happens and these professionals have the capacity to resolve the incident immediately, while it is taking place," explains Slelatt.
On-the-spot alarm warning
Hawkeye, which was launched in Argentina a decade ago, will now be deployed in Spain and is already being installed in various buildings in Madrid. As a complement to the janitor of a building, this new security model provides a more active surveillance inside a building. Its ability to react is in real time, eliminating the need to wait to view the cameras when the incident or crime has already been committed, and allowing residents and visitors to the property to communicate with the security guards via a microphone. "If a customer has a security issue within the property, he knows that he can report it on the spot and that someone will always be there to help him within minutes," explains the Strategic Product Director of Prosegur Alarms.
Furthermore, by installing several active surveillance posts, it is possible to check or monitor different access points simultaneously: "Several guards watch several cameras from all access points at the same time". As it is highly visible, it acts, in itself, as a deterrent, allowing a timely reaction.
In Spain, between January and March 2021, there were 23,359 robberies in homes, commercial and other premises, 16,465 of which were home burglaries, according to the Ministry of the Interior's Crime Report. Hawk-Eye is a new technological device to put an end to crime and incidents within apartment buildings, as is already the case in some buildings in the centre of Madrid. "There has been a fundamental change; there is no longer vandalism at the entrance and the continuous flow of people who do not belong to the building has stopped. Surveillance is more effective, but also dissuasive", explains one of the residents of these apartment buildings where Hawkeye has been installed for several months, improving the peace of mind and security of homeowners.
Artificial Intelligence and 5G.
The technological evolution of this remote security system is unstoppable. At the last Mobile Congress in Barcelona, the latest version of this remote surveillance service, Hawk-Eye 5G, was presented, which incorporates Artificial Intelligence and video analytics to improve its effectiveness and response. The pilot model was installed in the Lleida Chamber of Commerce, where Telefónica has deployed an indoor 5G network as a test laboratory, and the results were as expected so we can take a further step in its development.
The new 5G Hawk-Eye can be installed where network cable does not reach, with a simple and quick Plug&Play installation that only requires electricity. "Until now, Hawk-Eye could only connect via 4G, but by incorporating 5G connectivity, it ensures a more optimal latency - the time lag between the problem and the ability to react - allowing a mobile connection to be used instead of a fixed one," explains Sebastián Slelatt, Director of Strategic Products of Prosegur Alarms.
Thanks to this technology the totem has wireless data communication and is only connected to electricity, the two-way audio and video streaming is much more efficient and has the possibility of having more cameras from which images are transmitted. It also allows it to be positioned in the place where it provides greater security to the property. For its part, Artificial Intelligence on the edge (browser) means that "the processing is carried out on the totem itself, so detection is faster and much more efficient and, consequently, so is the response capacity," says José Luis Navarro Salinas, Product Manager Home Security of Prosegur.