Press Room
Prosegur rewards the effort and academic excellence of its employees and family members by awarding 195 talent scholarships in Spain
The Fundación Prosegur study grant programme supports the training of company employees and their children of school and university age.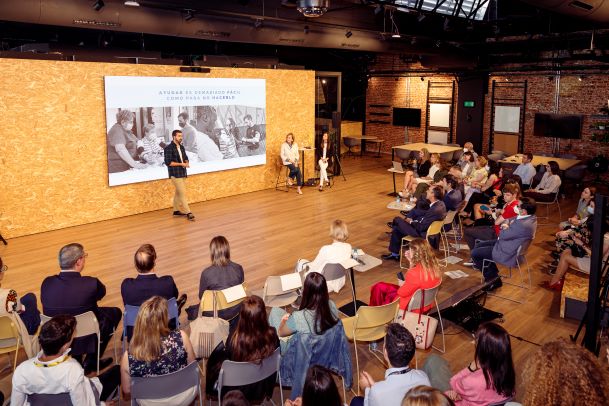 Madrid, 24 May 2022.– Prosegur has held the award ceremony for the 2021/2022 scholarship holders as part of the study grant programme that the company channels through its Foundation. This initiative aims to reward the effort and academic excellence of its employees and their families. In this edition, the Prosegur Foundation has awarded a total of 195 Talent Scholarships in Spain.
After a two-year pause due to the health crisis, the Prosegur Foundation held the award ceremony for the students in a hybrid ceremony that for the first time brought together Talent scholarship holders from all over the country. During the 2021/2022 academic year, Prosegur awarded 136 school scholarships and 29 university scholarships to children of employees. In addition, 25 grants have been awarded to company professionals who are combining their work with training programs, as well as 5 Empowered Women scholarships, aimed at promoting the development and talent of women at Prosegur.
Helena Revoredo, president of the company and its Foundation, presided over the ceremony. "I would like to congratulate all the scholarship holders for what they have achieved and for having striven to achieve their goals," she said. The chairman of the Foundation also expressed her excitement at once again holding the award ceremony, after an almost three-year impasse, and at being able to bring together all the scholarship holders from different parts of Spain for the first time at a hybrid event.
The event also featured an inspiring speech by Guillermo Martínez, entrepreneur and founder of Ayúdame3d, an entity that develops and distributes 3D-printed arm prostheses for free to people in need in more than 50 countries and that promotes the social value of technology through technology-social awareness programs.
The Talent Scholarship programme represents commitment to academic excellence and personal effort. Since its launch in 2007, this initiative has furthered the development and training of more than 15,200 company employees and their children of school and university age in 14 countries. In Spain there are already more than 3,000 beneficiaries.