New spaces for new ways of working: this is how we encourage creativity in the workspace
Prosegur's new facilities are more versatile and attractive so that its employees feel more comfortable and safer: open, more collaborative spaces to encourage new ways of working as a team.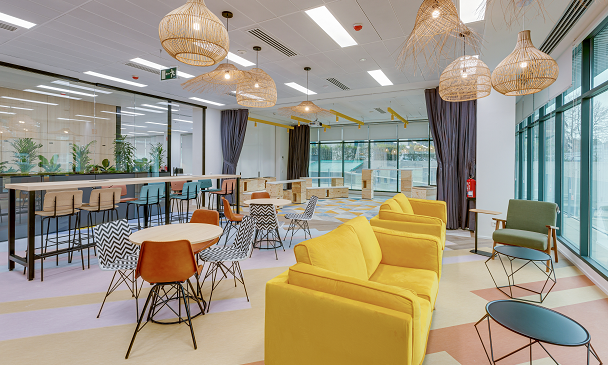 According to Pablo Grande, Global Head of Design, Workplace & Real Estate Projects for the Properties department "the culture of any organisation is shaped by its work habits, but also by its work environment". With this concept in mind, the Properties department of Prosegur began to translate its technological transformation into something as tangible as its facilities and workspaces. As the company has a presence in 26 countries, this is by no means a minor challenge. This ambitious initiative reflects the company's commitment to transformation, at all levels, to remain at the forefront of security."
Business organisations need to adapt their growth to innovation in order to encourage employee creativity and create workplaces where everyone feels comfortable and safe.
The metamorphosis undergone by some of Prosegur's offices in Bogotá and Madrid (where there is a new building located at Juan Ignacio Luca de Tena) are the result of the COLABORA initiative: a project with which the company has sought to transform the work philosophy through spaces. According to Ramón Gil, Global Director of the Properties department "We want to take the transformation to the next level, which is the creation, innovation and collaboration of functions,". This initiative continues to expand, and the first phase is already underway in Santiago de Chile. Other head offices, such as those in São Paulo, will do so in the coming months.
Prosegur's team in charge of refurbishing these offices drew on current trends in workplace design, a strategy that combined the team's own ideas with advice from market specialists. In doing so, they ensured that the implementation was global and homogeneous. To this end, the team has drawn up a detailed design and construction playbook specifically for this project, which includes the main guidelines and intervention models to effectively undertake the renovation of the spaces.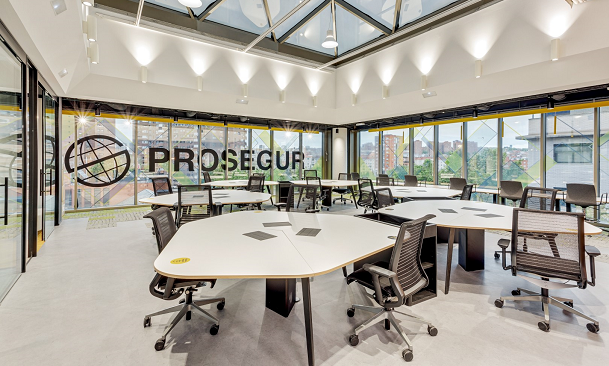 More light, better acoustics and sustainability
In the new offices, every detail is important. The light and acoustics of the space are essential to improve the quality of work of employees. The colours and furnishings make us feel very much at home, a comfortable and friendly home. "Increasingly, houses are becoming more and more like offices and offices are becoming more and more like houses," says Pablo Grande, who emphasises the importance of the personal space being in tune with the work environment and stresses that "this is part of the company's leadership model."
As part of this transformation, we also wanted to implement environmentally sustainable actions that further enhance the quality of these new offices. One example was the improvement of energy efficiency in office lighting and the control of air conditioning and outdoor lighting. According to Ramon Gil "the key is to correctly reinterpret each space to get the most out of it in a sustainable way. If we also take care of the lighting and acoustics, we are helping to make work more efficient."
Within these new spaces, workers have access to different environments: the Co_Studio, a creation and innovation centre that provides support to the headquarters in Madrid and Bogotá; the Co_Lab, a product and service innovation laboratory; the Co_Work, a flexible office concept with a coworking philosophy; and the Co_Xplore, where workers have access to shared offices.
In addition, the company wants to go a step further by participating in Zityhub, a network of corporate spaces that allows other companies to use Prosegur's new facilities in a flexible and fully traceable way.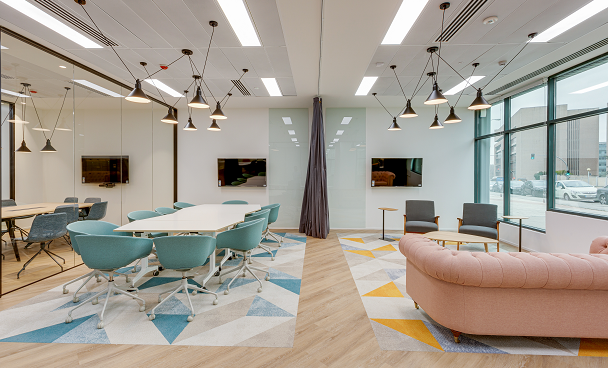 Encouraging creativity
The company is also developing a strategic plan for Properties, a global transformation plan that will be implemented over the next three years in Spain, Peru, Chile, Argentina, Brazil and Germany. According to Ramón Gil "we have realised that we have the opportunity to apply this new model throughout our network, and we want to do so because it will allow us to make an impact with our brand, provide better working conditions for our employees and help reduce our carbon footprint."
Many experts point out that a human-centred design helps drive learning and knowledge. Similarly, the place where people work can encourage them to make better decisions. For example, a meeting on the office rooftop with high chairs and movable whiteboards can be a more productive meeting than in a white room with black chairs that conveys a sense of monotony and stagnation.
"Now I work every day in a different place, every day I talk to different people and share ideas with others, which has improved my creativity," says Ramón Gil. The design of the workplace encourages informal conversations, thus building relationships and contributing to create trust among employees.
Ultimately, it's about making employees happier. "We have had very good feedback from employees regarding their new offices," says Pablo Grande. This idea has also helped recruit highly qualified professionals who are attracted to the new workspaces. In addition, it has also helped enhance the loyalty and therefore retain employees who have been with the company for many years. "Professionals are increasingly taking into account the layout of work environments when looking for a new job. Initiatives such as COLABORA have a positive impact on the well-being of employees, who are the focus of this project, through the creation of modern spaces that enhance loyalty and attract talent to the company".