SUPPLIERS
SUPPLIERS
Supplier management at Prosegur falls under its Code of Ethics and Business Conduct, which establishes that the selection process of its collaborators is to follow criteria of independence, objectivity and transparency, and these aspects must be aligned with an interest in attaining the best trade conditions.
In this regard, all suppliers are under the obligation of accepting, abiding by and fulfilling the Code from the moment they sign their contract with Prosegur in all their operations, whether corporate or local.
MAIN TYPES OF SUPPLIERS OF PROSEGUR
TECHNOLOGY
Technology materials and outsourcing of services
FLEET
Fuel, armoured vehicles for transporting cash
SERVICE MANAGEMENT
Procurement, cleaning, building maintenance, travel, telephony and others
TELECOMS & IT
Devices, software, hardware and technical assistance
PROPERTIES
Buildings, rent and furniture
ALARMS MATERIALS
Materials for the Prosegur Alarms business
EQUIPMENT AND UNIFORMS
For operating staff
MACHINES
For operating and maintenance in the Prosegur Cash business
OTHER SERVICES
External consultants, marketing and training
SUPPLIERS BY GEOGRAPHICAL ZONES
IMPORTANT PROJECTS IN 2018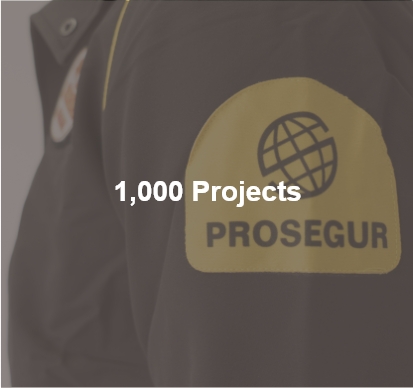 Among the over 1,000 specific projects carried out during 2018 led by the Purchases and Supply Chain Area, we must point out the establishment of the Technology Purchases, Alarms and IT hubs, plus the implementation of the Electronic Trading Tool and the digital signature, the latter having started out in Spain and subsequently spreading to the rest of our markets.
With the goal of meeting our fleet's cost reduction requirements, contributing to environmental protection and advancing towards a new concept of mobility, Prosegur has launched an internal Carsharing initiative.
This initiative is included as part of the project of transforming the mobility of Prosegur vehicles, allowing us to improve the development of employee activities.
This system allows the use of vehicles in restricted traffic areas that may only be accessed by zero-emission vehicles, as applied in the anti-pollution protocols of cities such as Madrid and Barcelona.
Throughout 2018 we have conducted pilot tests in the Security and Alarms areas in the cities of Madrid, Barcelona and Buenos Aires.